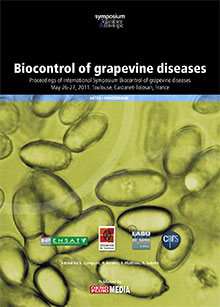 Anglais / English
SUBSCRIPTION FORM BEFORE THE 30TH OF JUNE 2011
Franco France / For France
50 euros ttc
Franco étranger / For all countries
70 euros ttc
Intégralité des textes des communications orales et par affiche
All Texts of oral and poster communications
Passer commande en retournant le Bon de commande avec votre règlement :
Order sending with the Purchase order form with your payment:
Par Fax / By Fax:
De France / From France:
03.85.37.19.83
De l'Étranger / From abroad:
333.85.37.19.83
Par Courrier / By Mail:
OENOPLURIMEDIA
Château de Chaintré
Cidex 453 bis
71570 CHAINTRÉ
FRANCE
May 26-27, 2011. Toulouse, France
SPECIAL SUBSCRIPTION
Biocontrol of grapevine diseases proceedings


The international Symposium "Biocontrol of grapevine diseases", international conference on the topic of biocontrol agents to reduce grapevine diseases will take place the 26-27th of May 2011. The recent advances on fundamental and applied researches on the topic of use of bacteria, fungi, oomycetes as well as elicitors of grapevine defences to protect this crop will be presented.
All the oral presentation and poster communications will be presented in a Proceeding Book. The Proceedings of "Biocontrol of grapevine diseases" are now available under subscription. You can already order your specimen at a very preferential rate of 50 euros ttc France and 70 euros ttc in other countries if you order it before the 30th of June 2011. After the 30th of June 2011, le price will be 90 euros ttc France and 110 euros ttc other countries. You will receive the proceedings end of November 2011.
To purchase your book now thank you to return the Purchase order form with your payment.


Le Symposium International "Biocontrol of grapevine diseases", conférence internationale sur les outils de lutte biologique pour réduire les maladies de la vigne aura lieu du 26 au 27 mai 2011. Les dernières avancées, en recherches fondamentales ou appliquées, seront présentées autour de l'utilisation de bactéries, de champignons, d'oomycètes et aussi d'éliciteurs d'origine naturelle, de défenses des plantes.
L'ensemble des présentations orales et des communications sous forme de posters seront présentées sous forme d'Actes. Les Actes de "Biocontrol of grapevine diseases" 2011 sont disponibles en souscription. Dés aujourd'hui, vous pouvez les commander, vous bénéficiez alors d'un tarif privilégié de 50 euros ttc France et 70 euros ttc hors France pour une commande passée avant le 30 juin 2011. Après les 30 juin 2011, le prix de commande sera de 90 euros ttc et 110 euros ttc hors France. Vous recevrez cet exemplaire chez vous fin novembre 2011.
Pour commander votre exemplaire dés maintenant merci de renvoyer le Bon de commande de l'ouvrage avec votre règlement.
Editors : S. Compant, R. Errakhi, F. Mathieu, A. Lebrihi
Editer par / Published by
OENOPLURIMEDIA
infos@mail.oeno.tm.fr
www.oeno.tm.fr